Payment Method Distribution
In addition to the built-in gateway integration, Spreedly also supports the ability to distribute vaulted credit card data to non-gateway third parties (referred to as "receivers"). Distribution differs from third party vaulting in that the recipient of the card data is not a known and supported gateway – it can be another third party with whom you do business.
How Distribution Works
Using Payment Method Distribution allows you to transact against another service's API, while still controlling your customer's card data by vaulting with Spreedly. Consider the following business that needs this ability:
You are a travel service that books accomodations on behalf of your users. You store your customer's card data in Spreedly up front and use that data to later purchase airline and hotel reservations on behalf of your customers. You only have to ask your customers for their credit card information one time, but can use it to make purchases against several independent services (the airlines, hotels etc…) at booking time.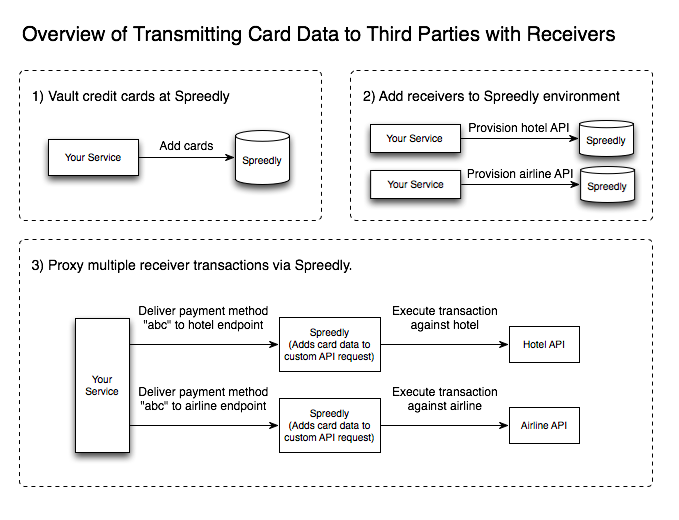 Spreedly's payment method distribution functionality enables businesses to transact with multiple endpoints on behalf of its customers, via a single, consistent, integration.
Single vs. Batch Distribution
Payment method distribution can operate in two modes - single card vs. batch export. If you have an external HTTP API you wish to target that exposes an endpoint that accepts a single card per call, you need the single card mode of PMD. If you have an SFTP endpoint that accepts a file containing multiple cards, then use the batch export mode of PMD.
In both modes, the basic workflow remains the same. You specify a template that tells Spreedly how to format the request, the card or cards to deliver, and Spreedly executes the call on your behalf. Batch export operates in an asynchronous fashion, which involves a little more complexity, but the two modes have more in common than they do otherwise.
Supporting Your Receiver
You can begin developing and testing your PMD workflow using a test receiver. However, before you can distribute real payment method data, you have to get your receiver confirmed and whitelisted. Please email the following information to Spreedly to get your receiver in the approval queue. (Alternatively, if you have an existing relationship or contact at the receiver company, you can direct them to Becoming a Receiver. This page is written from their perspective and lets you avoid just being a go-between Spreedly and the receiver.)
The receiver name/company along with a link to their public site
The production URL you will be invoking on the receiver with Spreedly payment data. The production URL must utilize SSL.
While the endpoint must utilize SSL, Spreedly does not require the SSL certificate to set up and whitelist the domain. Therefore, you are not affected when the receiver updates certificates on their end. If there will be a domain change, please contact Support and let us know in advance.
We ask that you allow several weeks for Spreedly to approve and configure a receiver for production use. During this time you can begin testing against a test receiver, which allows test payment methods to be delivered to any user-specified endpoint URL.
Once you've set up your receiver, you can see which requests are powered by Spreedly by looking for the X-Transaction-Powered-By: Spreedly header. Filtering requests to ones with this header can be helpful for debugging and for tracking Spreedly-originating transactions.
List of Supported Receivers
We currently support the following receiver types (and their associated whitelisted URLs):
Company
Receiver Type and Hostnames
A1 Payments
a1_payments
https://www.a1payments.com
Acapture
acapture
https://oppwa.com
Ace Rent a Car
ace_rent_a_car
https://ota.acerentacar.com
Adquira
adquira
https://www.adquiramexico.com.mx
Adyen MarketPay
adyen_marketpay
https://cal-live.adyen.com
Adyen
adyen
https://pal-live.adyen.com
Airtime Rewards
airtime
sftp://visaproxy.zorro.airtimerewards.co.uk
Alliance Reservations Network
alliance_reservations_network
https://tripauthority.com
Allianz Global Assistance
allianz_global_assistance
https://gateway.americas.allianz-assistance.com,
https://uatgateway.americas.allianz-assistance.com
American Express
american_express
https://api.qa.americanexpress.com,
https://api.americanexpress.com,
https://www206.americanexpress.com,
https://fsgateway.aexp.com,
sftp://fsgateway.aexp.com
Authorize.net
authorize_net
https://api.authorize.net/,
https://apitest.authorize.net/,
https://api2.authorize.net/
AXS
axs
https://app.axs.com
Bankwest
bankwest
https://bankwest.gateway.mastercard.com
Base Commerce
base_commerce
https://gateway.basecommerce.com
BBC Shop
bbc_shop
https://www.bbcshop.com
BestBus
bestbus
https://www.bestbus.com
Bink
bink
sftp://sftp.bink.com/
Blackbaud
blackbaud
https://payment.service.blackbaudhost.com
Blacklane
blacklane
https://sabretsx.blacklane.com
Blue Ribbon Bags
blue_ribbon_bags
https://api.blueribbonbags.com
Bluesnap
bluesnap
https://ws.bluesnap.com
Booking.com
bookingcom
https://secure-distribution-xml.booking.com
Braintree Payments
braintree
https://api.braintreegateway.com,
https://www.braintreegateway.com
Bypass Mobile
bypass_mobile
https://zuul.bypassmobile.com
CardConnect CardSecure
cardconnect_cardsecure
https://fts.cardconnect.com:6443
Cashbackpoint
cashbackpoint
sftp://sftp.cashbackpoint.com
CASHNet
cashnet
https://commerce.cashnet.com
CDS Global
cds_global
https://sl.cdsglobal.co.uk
CECABank
ceca_bank
https://pgw.ceca.es
Chain Commerce
chain_commerce
https://webservices.chaincommerce.com
Clover
clover
https://api.clover.com
Cosmic Cart
cosmic_cart
https://cosmiccart.com
Credomatic
credomatic
https://credomatic.compassmerchantsolutions.com
CrowdTorch
crowd_torch
https://embed.laughstub.com
Cybersource Decision Manager
cybersource_decision_manager
https://ics2wsa.ic3.com
CyberSource
cybersource
https://secureacceptance.cybersource.com
Dalenys
dalenys
https://developer.dalenys.com
Demandware
demandware
https://*.demandware.net
DHISCO
dhisco
https://dshpgenbk.dhisco.com
DirectConnect
direct_connect
https://gateway.1directconnect.com
Diane Von Furstenberg
dvf
https://www.dvf.com
Expedia Affiliate Network
ean
https://book.api.ean.com,
https://api.ean.com
Economy Rent a Car
economy_rent_a_car
https://production.economyrentacar.com
eGlobalfares
eglobalfares
https://secure.eglobalfares.com
8D
eight_d
https://webservicespublic.biximontreal.8d.com,
https://webservicespublic.minneapolis.8d.com,
https://webservicespublic.wdc.8d.com,
https://webservicespublic.nyc.8d.com
ePay
epay
https://relay.ditonlinebetalingssystem.dk
Electronic Payment Exchange
epx
https://secure.epx.com
Eventbrite
eventbrite
https://www.eventbriteapi.com
Expedia
expedia
https://apim.expedia.com
FanXchange
fan_xchange
https://www.fanxchange.com,
https://uat-affiliate-api.fanxchange.com,
https://affiliate-api.fanxchange.com
Farelogix
farelogix
https://api.farelogix.com
Fidel
fidel
https://api.fidel.uk
Finix Payments
finix_payments
https://api.finix.io
First Data India Pvt Ltd.
first_data_india
https://www.firstdatamerchantservices.com,
https://www.fdmerchantservices.com
First Pay
first_pay
https://secure.1stpaygateway.net
Global Technology Partners
global_technology_partners
https://www.gtpsecurecard.com
Golf18Network
golf18_network
https://www.golf18network.com
GolfNow
golf_now
https://tr.gnsvc.com/
Green Dot
green_dot
https://partners.greendotonline.com,
https://ezcorp-baas.greendotonline.com,
https://pie-baas.greendotcorp.com
Hertz
hertz
https://vv.xnet.hertz.com,
https://ota.dollar.com
iFly Res (IBS)
iflyres
https://iflyresapi.ibsgen.com
Ingenico
ingenico
https://world.api-ingenico.com/
IXOPAY
ixopay
https://secure.ixopay.com
JEM Marketing
jem_marketing
https://office.j-e-m.com
JustRide
justride
https://us-app.justride.com
Kount
kount
https://risk.kount.net
Lincoln Center
lincoln_center
https://lcpatesssoap.lcinc.org,
https://lcpaqatesssoap.lcinc.org
Luminate Online
luminate_online
https://secure2.convio.net,
https://secure3.convio.net
Lyft Bikes
lyft_bikes
https://webservicespublic.chicago.lyftbikes.com
Mastercard Member Test Facility
mastercard_mtf
https://ws.mastercard.com
Mastercard
mastercard
https://ws.mastercard.com
Navitaire
navitaire
https://*.navitaire.com
Network for Good
network_for_good
https://api.networkforgood.org
NÜ Car Rentals
nu_car_rentals
https://wservices.nucarrentals.com:8443
Office Depot
office_depot
https://b2b.officedepot.com
Omnivore
omnivore
https://api.omnivore.io/
1-800-Flowers
one800_flowers
https://ecommerce.800-flowers.net
ONPEX
onpex
https://gate.opx.io
Open Hotel
open_hotel
https://openhotel.com
Pace Payment Systems
pace_payment_systems
https://trans.pacepayment.com
PayFabric
pay_fabric
https://www.payfabric.com
Paycorp
paycorp
https://myeftpos.eftpos.co.za
Payflow
payflow
https://payflowpro.paypal.com
Paymark Click
paymark_click
https://secure.paymarkclick.co.nz
Payreto
payreto
https://oppwa.com
Payvision
payvision
https://processor.payvisionservices.com
PBSC
pbsc
https://asp.publicbikesystem.net,
https://col.publicbikesystem.net,
https://chat.publicbikesystem.net,
https://chi.publicbikesystem.net,
https://tor.publicbikesystem.net,
https://lou.publicbikesystem.net,
https://det.publicbikesystem.net,
https://rey.publicbikesystem.net
PrimeSport
prime_sport
https://api.primesport.com
PromisePay
promisepay
https://centinel600.cardinalcommerce.com/
Qualpay, Inc
qualpay
https://api.qualpay.com
Ravelin
ravelin
https://vault.ravelin.com
RedCoach
red_coach
https://websales.redcoachusa.com/
RedShield
red_shield
https://emea.red-xml.com:5443,
https://webservices-rso-emea.aciondemand.com:5443
Sabre
sabre
https://webservices.sabre.com,
https://webservices3.sabre.com,
https://webservices.havail.sabre.com,
https://api.sabre.com,
https://api.havail.sabre.com
Sage Pay
sage_pay
https://live.sagepay.com
Shopify
shopify
https://elb.deposit.shopifycs.com/
Shoppable
shoppable
https://secure.shoppable.com,
https://secure.shoppable.co
SiteMinder
site_minder
https://ws.siteminder.com,
https://cmtpi.siteminder.com
Sixt
sixt
https://res-soap.prod.sixt-payment.com
Spreedly
spreedly
https://core.spreedly.com
SprinterBus.net
sprinterbus_net
https://www.sprinterbus.net
Storebox
storebox
https://vaultapi.prod.tokenizer.storebox.com
Stripe
stripe
https://api.stripe.com
SynXis
synxis
https://interface.synxis.com
SysPay
syspay
https://app.syspay.com
Target
target
https://secure-api.target.com
Transcor Data Services
tds_tickets
https://gtg.tdstickets.com:38080
Telecharge
telecharge
https://xml.telecharge.com,
https://xmlsg.telecharge.com,
https://eapiqa.telecharge.com,
https://eapi.telecharge.com,
https://eapiqa.dqtelecharge.com
Tempus Technologies
tempus
https://*.spectrumretailnet.com
Tessitura
tessitura_ramp
https://*.tessituranetworkramp.com
TicketNetwork.com
ticket_network
https://tnwebservices.ticketnetwork.com
Ticketmaster
ticketmaster
https://app.ticketmaster.com,
https://payment.ticketmaster.com
Toast
toast
https://ws-api.toasttab.com
TokenEx
tokenex
https://api.tokenex.com
TransferWise
transferwise
https://api.transferwise.com
Travelfusion
travel_fusion
https://api.travelfusion.com
Travelport
travelport
https://americas.universal-api.travelport.com
Travolutionary
travolutionary
https://services.carsolize.com
TSD
tsd
https://weblink.tsdasp.net
Two Tap
two_tap
https://api.twotap.com
USAePay
usaepay
https://usaepay.com,
https://sandbox.usaepay.com
RentPayment
vacation_rent_payment
https://www.rentpayment.com
Viator
viator
https://viatorapi.viator.com
Virtual Card Services
virtual_card_services
https://www.vcs.co.za
Walpay
walpay
https://prod.cc-gw-wal.com
Wantickets
wantickets
https://www.wantickets.com
Webinc
webinc
https://api.gate4payment.com
Windsurfer CRS
windsurfer_crs
https://res.windsurfercrs.com,
https://ids.windsurfercrs.com,
https://uat.windsurfercrs.com
Worldpay RiskGuardian
worldpay_riskguardian
https://trx9.wpstn.com/stlinkssl/stlink.dll,
https://trx3.wpstn.com/stlinkssl/stlink.dll,
https://trx1.wpstn.com/stlinkssl/stlink.dll,
https://test1.wpstn.com/stlinkssl/stlink.dll
YapStone
yapstone
https://www.vacationrentpayment.com